The majority of bloggers in the world use WordPress to deliver their fresh words to the world on a daily basis, and a huge number of general purpose websites also run on it. WordPress is easy to use, easy to set-up and widely recognized as the most solid CMS platform.
However, a lot of people may not realize the extra horsepower that is hiding under the hood of WordPress – extra power that can only be released by utilizing frameworks to build your new project.
WordPress frameworks give you the ability to sculpt your website exactly to your needs – whether it be altering the look and feel or to add additional functions like social networking and rating systems. Frameworks enable developers to do custom work from a solid base, with clean code, lots of documentation and maximum flexibility. Sites built using WordPress frameworksare also easier to optimize for SEO, which gives you a huge advantage from day one.
In the following article, we'll go through the top 5 frameworks (as of August, 2012), and give you enough information so that you can investigate further and decide which one is for you.

The Genesis Framework is hugely popular and has a massive community supporting it. It has a wide-variety of layout options baked-in, really powerful custom widgets and nice, clean code that cuts down on development time and enables you or your developer to work on the important things.
The way that the Genesis Framework is written means that it is also possible for you to make changes in your development team with going through the pain of teaching someone the code from scratch. The SEO options are great, the security features are tight and the common opinion is that Genesis is a pleasure to work with.
Pagelines – PageLines Framework

PageLines offers a wide variety of modern options that help you to deploy that is powerful and future-proof. With responsive design, drag-and-drop functionality and forums integration, PageLines is ready to go on desktops as well as mobile devices, a big plus as the mobile web becomes ever more popular.
PageLines is more expensive than the average WordPress framework, but with consistent updates and a really passionate team behind it, it's worth looking into if you want complete control over your website with a really solid base to start from.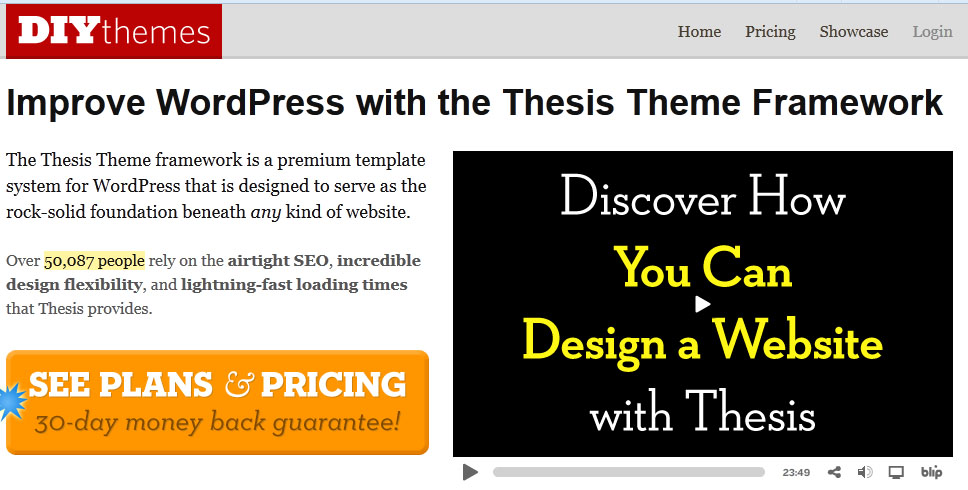 When the head of SEO for Google (Matt Cutts) uses a WordPress framework, you can be pretty sure it's a solid platform. Thesis gets some bad rap because it's design is both its strength and its weakness.
If you're looking for an endlessly flexible framework to build your cutting-edge design site, then it's probably not for you. However, it can still be modified and with enough CSS work you can make it look different enough to stand out from the crowd. Thesis is popular due to its speed, possibly the best integrated SEO control and elegant back-end.
Headway Themes – Headway Framework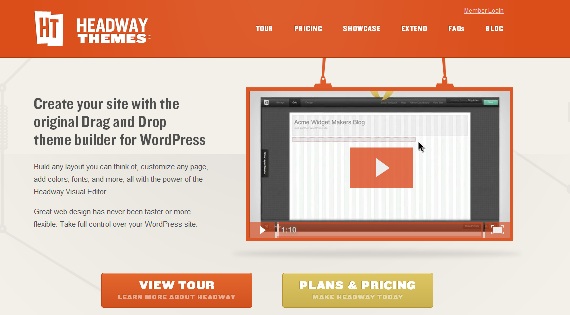 Headway is a drag-and-drop framework that provides a simple, intuitive way to build a website from scratch without having to be a programming ninja. It features a grid layout to build on top of, and with the use of 'building blocks' you can quickly put together a powerful website.
The layout of your site is completely customizable by arranging your layout via drag-and-drop, and it's really the only one of its kind to offer this level of power with a visual interface. The SEO features of Headway are also really strong, and it reduces the need to install 20 different plugins to do the job.
Pro Theme Design – Elemental Framework

The Elemental Framework shines in a couple of areas. Like most of the above, SEO is a pleasure to configure on a page-by-page basis, and largely bypasses the need to install additional plugins. Design wise, Elemental includes animated drop-down menus, custom page templates for different areas of your site, and easy to modify page-layouts.
It's a favorite amongst bloggers, and it enables developers to delivery high-quality websites quickly, with great results.
I hope that gives you an insight into the world of WordPress Frameworks, and that with this information in hand you'll be able to choose wisely when you decide to make the leap! What other frameworks have I missed? We'd love to hear you suggestions in the comments.
Source:  WP Kube